When companies first started using Twitter they posted promotional material, everything from details about new cars to photos of sneaker models.
Or they monitored customer complaints, posting when airline flights were delayed or responding to consumers who identified broken ATMs or website outages.
That's changing. Increasingly, press departments and investor relations professionals are using Twitter to reach the financial community with targeted messages about earnings, management changes or industrial accidents.
The change in landscape has been driven by the Securities and Exchange Commission's decision in 2013 to count social media as financial disclosure. Bloomberg's decision to integrate tweets into its professional terminal has put these posts directly in front of investors.
The use of Twitter by IR and PR pros is growing in part because it's a free alternative to paying to publish a press release on Business Wire or PR Newswire. It also allows companies to be more agile, responding faster to a crisis or opportunity.
JPMorgan Chase, Goldman Sachs and other financial heavyweights have started using social media more frequently for big announcements. Here is how a recent tweet from Goldman Sachs appeared on the Bloomberg terminal: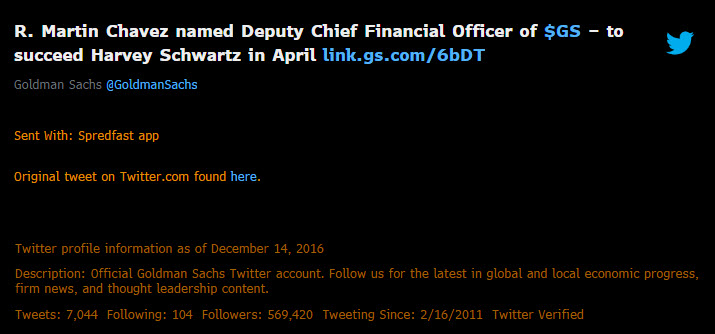 Earnings are the most important announcement that comes out each quarter and increasingly they are being disseminated via Twitter. Companies post results on their web site and then tweet the link. This is how JPMorgan's earnings tweet appeared on Bloomberg. Note the use of the dollar sign, called a "cash tag," before the ticker. That's done to direct the information to a financial audience.